Digital Book Labs is a book publishing and marketing agency but we also provide public relations services. We have worked with many industry professionals on their media campaigns and handled their public relations departments. And we are very successful in our collaborations, it has panned out well for us. We have done PR campaigns, handled media crises, trained for special events and they have all been a great success. Our connection within the media industry allows us to use it to our client's advantage and that has been the case consistently.
"I will always remember the great services provided by Digital Book Labs and the way they handled my marriage events. It was chaos and I could have never handled it on my own without professional management. Thanks, guys"
- Melissa Comb, CEO of Diamond Tree Co.
Beyond Book Pr, What Is Public Relations In General?
Public relations is different than media management or even marketing, it entails positioning a company to the general public and its potential customers in a way that creates appeal and garners respect and loyalty. Public relations deals with the crisis of all kinds that can be highlighted in the media and tarnish the reputation of a company, and in today's time that is everything. We organize better strategies to obtain a positive image for the brand.
As the rise in the digital market, the game has altered enormously for everyone in the business but we have stayed ahead of the curve. We have been very successful in bringing start-ups to life and amplify their following. Social media platforms have altered the field and made it an even playing field for many smaller brands and allows them an opportunity to promote their work and engage viewers better than a bigger brand.
Personality Cultivation: PR for Experts and Authors
Digital Book Labs has helmed many projects over the years, some have been non-fiction writers and we have helped put them on the map. They are now popular and hold their recognition. Any PR service would consider them successful with these results. If you observe the news and articles in the newspaper and find these brands being highlighted it would mean that a PR agency has done its job. And this is possible only with strong partnerships, connections with individuals and companies.
As a PR agency I aim is to engage our clients with the local and regional media. To help them build a relationship that a media outlet reaches out to them for a quote or opinion piece. Later, we build on this to gather national and international news and placement for our clientele. As they can engage with international media, we groom them further to be able to lead their interviews and articles. Finally, as the last step when we have noticed that the media has been well-acquainted with our clients and can communicate with them independently and approach them for their views on a field they believe they have expertise then we step back and let them take the reigns.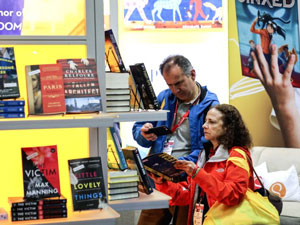 Digital Book Labs Director of Publicity Strategy Erin Birnbaum with publicist Annmarie Petitto and Senior Publicist Melissa Sileo
Public Relations for Corporate Clients
As a book publishing and marketing business, we have often received requests to expand to the corporate industry and we have now explored the opportunity. We are essentially a media firm that does marketing for book authors and publishers, we are now catering to corporate clients in media pitching, strategy for content of the digital space, including social media. We aim to improve your credibility, reliability, and reputation in the market.
I worked with Digital Book Labs in 2018, they were God-sent. I needed someone to handle my PR for my business and I just could not find the right people. Dan assured me and charmed me from the get-go, I was so impressed with his knowledge of the business and the teamwork that was reflective in the first meeting itself. Truly be the best collaboration.
- Brent Simon, CEO of Alwayno Tech
Because our primary job is with the book publishing business, we have learned valuable knowledge about consumer behavior and media relationships. This has allowed us to make better decisions when it comes to PR for our corporate clients. We have found that our style of not selling or just informing the customers or the media when a product is out, or we need to clarify has worked, we have developed relationships and customer loyalty. It has benefited the brand and our work together and supported in achieving our targets.
PR for Nonprofit Organizations
If our work gets coverage from The PEOPLE'S magazine or a cover on Parade, the brand value would skyrocket. This would gather national recognition for our clientele. For our non-profit organizations, it depends heavily on our publicity and the coverage on media to be able to gather funds for functionality. This is the reason working with a PR agency is integral for non-profit organizations.
Non-profit organizations benefit from publicizing their services to the audiences, to tell their story well. This is where we play the role, we entice the audience with the benefits that the organization is providing to the society and gather the funds for them to be able to conduct their work. We often use the human element of their stories to get the audiences to empathize with their work. When the board members notice the difference it can make to the funds and their activity, they are re-affirmed of their investment with the agency.
Do You Need PR, Digital Book Labs is Available
Digital Book Labs is your one-stop solution. We provide media consultancy, PR for corporate clients, personal publicity, and PR for non-profit organizations. Digital Book Labs is your go-to place for media problems and public relations. Reach out to us through our website and find out more about us.